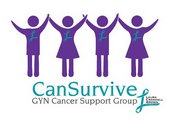 CanSurvive
The CanSurvive GYN Cancer Support Group provides support to women with gynecologic cancers, their families, friends, loved ones and the professionals who treat them. We recognize that in addition to excellent medical care, there is a deep need for emotional, spiritual, educational, and financial support when faced with the challenge of a life-threatening illness.
Therefore our goals are to:
Create a setting in which patients can offer one another emotional, social, and spiritual support
Provide opportunities to educate others about gynecologic cancers treatments
Provide financial support for patients, directly or indirectly
Make it possible for patients and professionals to interact in informal settings
We offer two support meetings a month, and each support meeting is different. We often have speakers or presenters and sometimes we just get together to share and plan. Each year we put together 200-250 gift bags to be given to patients undergoing chemo in November and December. Since at times patients are too ill to attend meetings the meeting and speaker notes are posted on the website.
Many ladies will exchange email address and telephone numbers so they can stay in touch throughout the month. The best part about CanSurvive is that someone with GYN cancer can meet (in person or even by e-mail, cards, or phone calls) other GYN cancer survivors and find support, encouragement, hope, and know they are not alone. It means so much to talk to someone who has "been there".
Because most women lose their hair during chemo, from time to time we place bandanas and/or hats in the chemotherapy room. We often send balloons or flowers as a pick-me-up.
CanSurvive members are active in the community to promote awareness of ovarian, endometrial, and cervical cancers and reach out to all those affected by GYN cancers.
To view pictures from CanSurvive please click here.
If you would like more information on the support group or would like to be connected with a survivor or caregiver please email us at cs@thinkoflaura.org
CanSurvive Meeting Information
(** Please note that Sunday afternoon meetings are now held on Thursday evenings **)
*******
Friday Meetings: 3rd Friday of each month
12 - 1:30 PM - lunch provided
American Cancer Society
1104 Ireland Way, Birmingham 35205
*******
Thursday Meetings: 3rd Thursday of each month
6:00 - 7:30 PM
Emmet O'Neal Public Library
50 Oak Street, Birmingham, AL 35213-1st Floor Conference Room
In an effort to provide advance information about future meetings, twelve themes were chosen to provide a variety of educational topics and fun experiences. The themes for the 2019 CanSurvive Meetings are listed below:
January: Mind and Body: Starting the Year Off Revitalized
February: Loving Yourself: Self-Care
March: March Madness: How to Gain Organization After Cancer
April: Ask the GYN Oncologist (Survivorship)
May: May Flowers: From the Soil to the Soul
June: Ask the GYN Oncologist (Late Effects of Treatment)
July: Celebrations in July
August: Summer Stress Management
September: Happy GYN Cancer Awareness Month
October: Happy Breast Cancer Awareness Month: We are our sister's keepers (Bring a breast cancer survivor or co-survivor to a meeting.)
November: Tis' the Season for Giving
December: Out With the Old, in With the New: Making Treasures Out of Brokenness