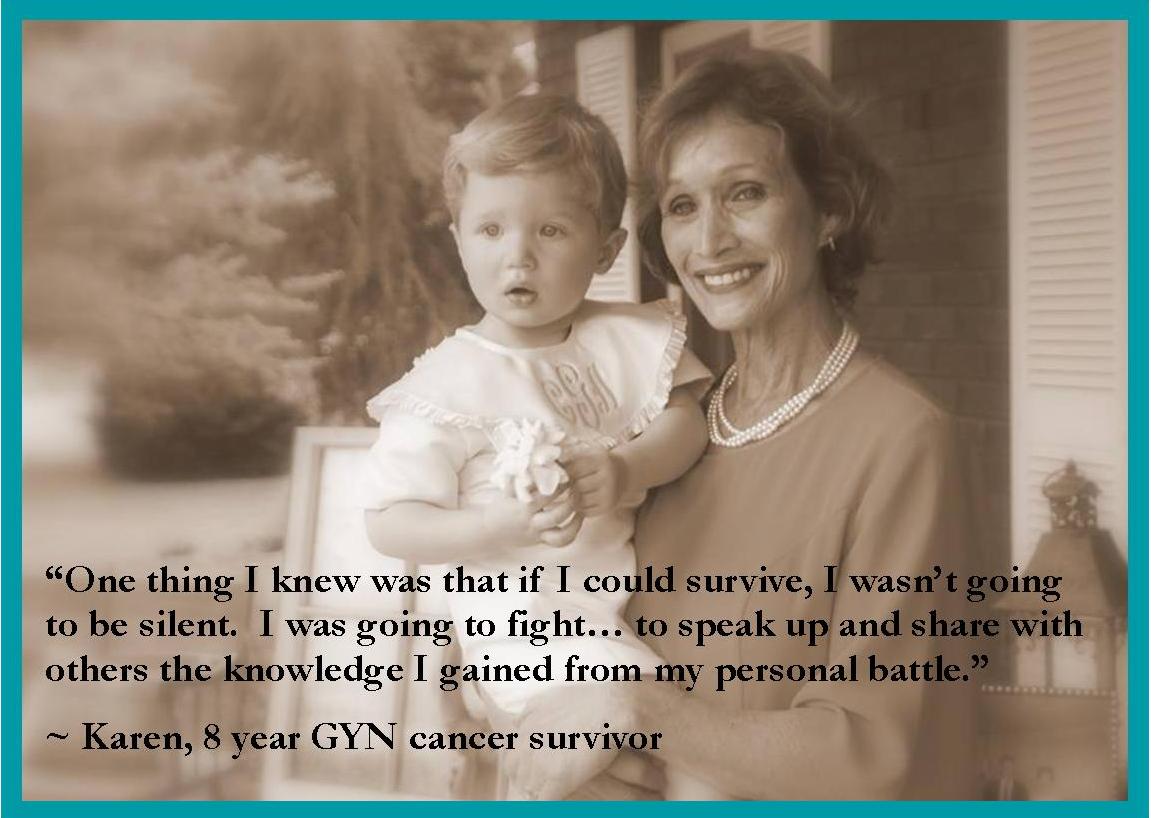 February 14th, 2008, began the biggest battle of my life. Nothing could have prepared me for what was to come. As if it was a bad dream or a reality I didn't want to face, pathology reports confirmed my diagnosis of Stage III Ovarian Cancer. I'm not sure words could fully describe what I was feeling inside… devastation, fear of the unknown, but also a desire to LIVE!
Ovarian Cancer might as well have been a foreign language to me. After my diagnosis, my early reading frequently referred to ovarian cancer as the "silent killer." One thing I knew was that if I could survive, I wasn't going to be silent. I was going to fight, speak up, and share with others the knowledge I gained from my personal battle.
The journey to determine the cause of my abdominal and gastrointestinal discomfort had begun in September of 2007 after a visit to my gynecologist. Annual pap smears and breast exams were part of my yearly routine. So at fifty years old, with a normal pap smear, I was content to accept that menopause was causing my problems. Later, I discovered that pap smears only detect cervical cancer. A few months passed and the pain persisted and now radiated up under my ribcage. A visit to my internist resulted in an ultrasound of my gallbladder indicating no problems. By December, my pain persisted and I stayed very fatigued. With the excitement of my son's recent engagement, Christmas holidays, a family Christmas party and lots of decorating and shopping, I didn't want anything to interfere with this happy time!
On February 11, 2008, I went back to my gynecologist. Following an exam, I was immediately scheduled for an ultrasound. When the doctor came in with the results, she didn't have to say a word; the look on her face said it all. My heart sank! For a brief moment, I felt as though God was a million miles away, but then I knew He was standing right next to me. I don't remember driving home that day. I was soon to learn what it was like to enter the world of oncology.
My surgery was scheduled for Valentine's Day, and the battle began! Armed with my faith, my many prayer warriors, my supportive and loving family, the most amazing friends and the best medical staff around, I began my cancer journey. Because the cancer had spread into my endometrium and diaphragm, I went through a year and a half of chemotherapy, where I encountered the most courageous and determined women I had ever met. We laughed and cried together as we shared our stories, prayed for each other, and talked about our hopes and dreams for the future. Unfortunately, I lost many friends along the way.
Through my experience, I learned it is so important for all women to know the signs and symptoms of ovarian and other gynecologic cancers. It is also important that we find an early detection test for ovarian cancer so that more women can survive. I'm sharing my story to support the Laura Crandall Brown Foundation and its mission of research, awareness, and patient support. Please join me in this effort for such a wonderful cause!