Hair Cut
Posted by Lindsey Adams in General | Comments (4)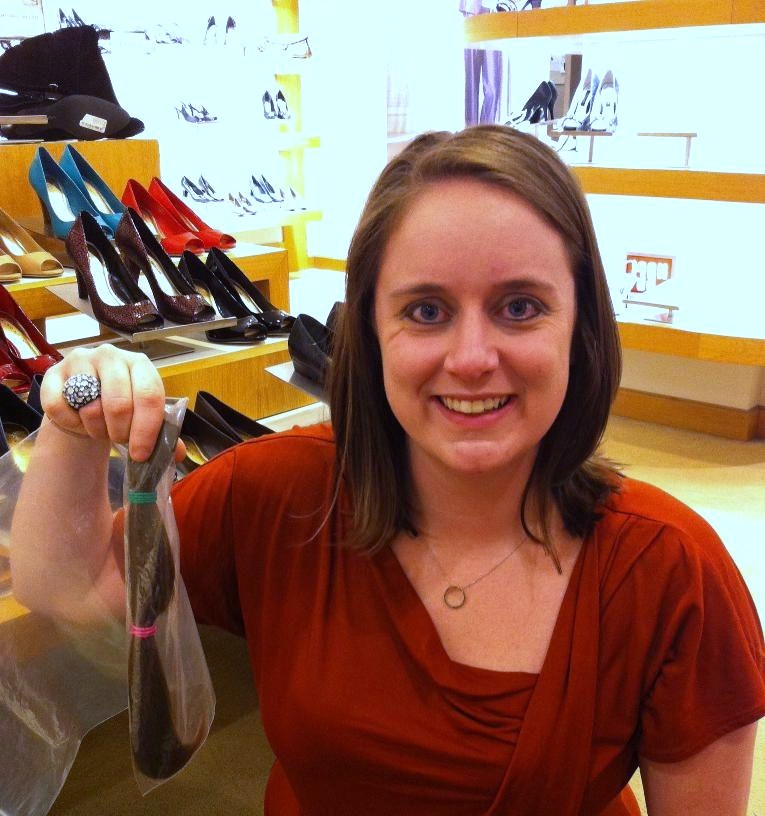 I remember Laura telling me she had shaved her head shortly after she had started treatment. Right before Laura and her family visited MD Anderson for the first time our group of friends met for dinner at Iguana Grill (one of the Crandall Family's favorite restaurants). This was going to be the first time I had seen Laura since she had shaved her head. When I started looking for her in the restaurant, I was looking for Laura with a bandana. Instead, I found her with her brand new wig made of real hair. It was amazing how it looked like I had always remembered her real hair to be. Her and Walter had bought it that day.
Many of you have known me for years and know that I go back and forth between very long hair and short hair. But for the majority of my college years and years after I have kept my hair pretty long. Well I decided a few weeks ago that I needed a trim, but then I decided it was time for a major change. I finally decided I would chop it all off. I had 24 inches of hair and looked in to donating my hair for cancer patient wigs. So, tonight I went with my favorite Oncology RN-Becky- to get my new 'do. (You may remember Becky from one of my previous blogs. Becky is one of my best freinds here in Dallas and really helped me with my emotions towards everything that happened to Laura. ) I got 11 inches cut off and will be donating it to Pantene Beautiful Lengths. Pantene uses these donations to make wigs for cancer patients similar to the one like Laura's. I remember how excited Laura was when she finally received her first hair cut after treatment. Sometimes we take for granted the little things in life, such as a hair cut. I never knew a hair cut could make me feel so proud, but this one sure did. I hope my hair helps make a beautiful wig for someone out there. I'm sure Laura appreciated the donors whose hair created her wig, so I'm returning the favor for her by donating mine. I hope everyone has a safe and amazing New Years!
---
Comments on "Hair Cut"
Thanks for sharing that story Mrs. Crandall!! With the 15+ friends we had at dinner that night I don't think Laura got the chance to tell us all about it. I'm proud that her friends and co-workers did such an amazing thing for her. I show people pictures of Laura and I from college and then show them pictures of her with her wig and everyone is always so amazed!
What a wonderful and selfless thing to do, Lindsey. Your hair will be a wonderful gift to a cancer patient.
I did want to give credit on Laura's wig where it is due. One day, Laura, Walter, Emma and I went to Hair Options in Hoover to try on wigs. Laura was toying with the idea of getting one and that day we had lots of fun trying on all sorts of wigs-even Walter tried a few :) Laura did know but I had already been by the wig store and talked to Lorraine, the store owner, about Laura and brought her a picture. She wanted to order a special wig for her that looked just like her real hair. Lorraine had the wig the day we all came in and Laura loved it immediately-that is until she heard the price. She told us that although she would love to have it to wear, she would rather use the money to cover her travel and medical expenses to MD Anderson so we left without the wig.
Laura returned to Auburn a few days later. She had lunch one day with her hotel coworkers and told them all about the blonde wig she found in Birmingham. I got a call from one of the girls after the luncheon and she told me that her Auburn friends wanted to contact the wig shop to purchase the wig and have it overnighted to Auburn. I put them in touch with Lorraine and I think they surprised Laura with it the next day. This was such a special gift to Laura. It was one of many wonderful gestures that friends and family made during Laura's cancer journey. Everytime I see the Laura's calendar cover picture with the wig on, I think of that phone call I got from Auburn and how special that wig was to Laura.
After her death, we took the wig to the American Cancer Hope Lodge where Laura did volunteer work her senior year of high school. We asked the staff there that had worked with Laura to give it to someone who could really use it and they promised it would go to special girl just like Laura was to them.
Lindsey, how special you are and how cute you look! I know Laura is so proud of you. Thank you for sharing. Love, Aunt Rachel
Oh, Lindsey, this is an AWESOME way to make what would seem a very ominous change a rewarding experience. Thanks for sharing your story and your photo with us. God bless you for making this special donation to someone truly in need.
Commenting has been turned off for this entry.