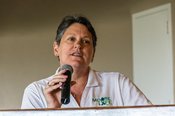 Cathy Moore
Click here to donate to the MLTL Fund
In 2013, the Moore Life to Live Fund was created by ovarian cancer survivor, Cathy Moore, to help ease the financial burden women face while battling GYN cancers. Since its inception, the MLTL Fund has provided $150,000 in patient grants to recipients to assist their families during some of the most difficult times of their lives.
The MLTL Volunteer Committee and LCBF staff work year-round to raise individual and corporate donations for the MLTL Fund. These funds are restricted for the sole purpose of funding patient grants. Patients are eligible to apply for a grant throughout the year, with disbursements occurring each Spring.
Your support for the MLTL Fund ensures we can continue the impact that these important grants have had on the lives of GYN cancer patients across the state. Together, we can create a better tomorrow for the many women and families affected by these devastating diseases.
Special thanks to last years supporters:
| | |
| --- | --- |
| Jim & Cecilia Crandall | Mark & Cheryl Bourn |
| Alabama Gynecologic Oncology | Cathy Moore & Beth Blackburn |
| Pamela McClain | Susan Landrum |
| Dianne Baer | Lynda Thompson |
| Charlene Johnson | Annie Wright |
| Laura Zargo | Regina Nummy |
| Kate Oatman | Christa Mayfield |
| UAB Gynecologic Oncology | Diane David & Nita Webb |
| Benefield & Hamner, CPA's | Howard Siegel |
| Lisa Harrison | Judy Catherine Long |
| Judy Perkins | Angela Williams |
| Jen Allan | Malisa Hester |
| Shea Bourland | Katherine Bland and Peggy Vandergrift |
| Howell Consulting, LLC | Jana Bach |
| Vicki Daviston | Karen Garner & Dee Scott |
| J Cosette Brown | Cliff Moore |
| Lindsay Zannis | Toni Leo & Susan Jackson |
| Bobby Lorino | Crestwood Tavern |
| Gina Palmer | Polly Brothers |
| The Vineyard | Cathy DeMent |
| Justin Dyar | Allan and Kelly Rice |
| Nancy K. Shannon | Carol Whitson and Sue Mathany |
| Sherri & David Romanoff | |