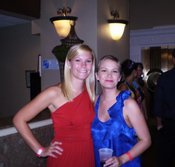 Emma and Laura Crandall (click for larger image)
Laura Crandall Brown was Cecilia's firstborn
For the life of me, every time I've heard this phrase, "Women of Teal" over the past few weeks, I think, no, it should be "Women of Steel"! Looking back on Laura's cancer journey, I know I can count on one hand, the number of times I saw her absolutely break down and cry during her fifteen month battle. Maybe she was being strong in front of me, just like I was trying to be so strong in front of her, not letting her see my anguish and fear at not being able to "fix things" like moms always do for their children. I would imagine myself in"her shoes" and think how does she do it.
Laura began writing a journal during her journey. Reading through it lately has not only inspired me even more but made me realize that Laura was preparing. It helped me to know what she was thinking and how she made it through those days and that she was not bitter. So I felt it appropriate to now share some of Laura's journal entries with other women of teal and their loved ones.
"Do I feel God gave me this to deal with for a plan or purpose? Not really. I feel more like I got cancer and He was more like a parent there waiting to support me. Strengthen me, but I don't think he gave me this. I trust he is just taking care of me from above."
Laura made me realize just how important it is to try and stay positive in spite of what God has planned for us.
"I don't want people to pity me. Pity finds fault and spreads sadness like disease. Rather I'd like to get positivity, fun, sense of humor. Let's share that and we'll all feel better in the long run." "I'm not trying to bring anyone down, hell we all know life is tough in some personal way or another. No one is better or worse off, just circumstantial. But how we take it, process it and push it out is what matters. And there is no right answer or method, but we work on it. Thank you instincts, thank you for kicking in!"
She reminded me to be thankful for all that we have and especially for our health.
"I am grateful to be on this earth today and look forward to tomorrow. I will not take for granted all the love and beautiful things here on Earth. I continue to thank God for my time here on earth, each and every day. I ask him to guide me in His will. I want to do His will. I do feel His peace and calm when I tap in."
She continues to inspire me and all the work I do in her memory through her foundation.
"To think that your life can help to develop a cure is better than voting for a presidential candidate that supports stem cell research. Better than any donation. My body is my tool for researching to help others. My fight is only one among many. Today cancer is common. More people experience it than we know. We are a club, a race all our own of medical roller coasters."
Cecilia Crandall
---
Seven year survivor
Cancer runs in my family like water through a sieve. Four women had breast cancer; my sister and my dad's sister were in their thirties when that happened. Other folks on my dad's side had lung, bladder, and colon cancer. My mother had pancreatic cancer. Yet, when I was feeling bad in August of 2005, I never suspected cancer was the culprit. I found other reasons to explain my symptoms. I was extremely fatigued, but figured that was from getting older and having some pretty demanding caregiver responsibilities. I had some digestive issues, but attributed that to a stomach bug that was going around. I became short of breath, but thought I had developed a latex allergy. I had some persistent bloating, but it was only when my abdomen swelled significantly in 2 weeks time that I became alarmed. By the time I went to the doctor in early October, I looked like I was 9 months pregnant. I felt awful and had not been able to eat normally in about a month.
The day before I went to the doctor, I told my mail lady what was going on. Most of my symptoms had occurred within the previous 2 months, although the bloating started 5 months before (and had subsided when I treated for self-diagnosed lactose intolerance that had seemed to develop). She told me I had symptoms of ovarian cancer. So, when the diagnosis came, it was not a complete surprise.
I had debulking surgery, which meant a complete hysterectomy and removal of visible tumor and omentum. The gynecologic oncologist also removed 9.5 LITERS of fluid (ascites) from my abdomen.
As it turns out, visible tumors were pretty small. No wonder my gynecologist had not found anything on my pelvic exam 7 months earlier; I probably had cancer then, when my only symptom was some unexplained weight gain.
My recovery from surgery was anything but smooth. It appeared my ascites had returned, so I started chemotherapy a week after my surgery. My surgical incision opened up 17 cm requiring packing and then a Wound Vac. And, it turned out the fluid that looked like ascites was really 6.5 liters of urine in my bladder. So, I required a catheter for awhile...and got a whopping UTI. My sister saw no life in my eyes when she took me to the ER and it scared her. I did not feel like I had much life in me either and told God I wanted to live after having a bad dream in the hospital. It turns out that my red blood cell count bottomed out and I had to have transfusions. I was in the hospital 2-3 times that first month after my surgery.
After that, things were better. A wonderful home health care nurse came 3 times a week to change my Wound Vac dressing. My Christmas present was saying adios to that machine. It still took a couple more months to heal completely.
My chemo regimen was carboplatin and taxol (then changed to taxotere) for 6 rounds, given once every 3 weeks. I lived on popsicles the week of chemo, but gradually got an appetite on the other weeks. I did lose quite a bit of weight, which startled my son when he came home from college. I finished chemo in February of 2006 and the cancer has stayed in remission, praise God.
I had overwhelming love and support from family and friends during this time, which, with God's help, made it do-able. And, oh, did I say during all this we were living in half of our house while the other half was being remodeled? I must be from hearty stock to live through that AND cancer! My husband and I had a strong marriage to be able to stay together through both those things. Later I joined a support group, which has been a lifeline, too.
Because of the family's cancer history, I had increased surveillance for breast cancer the following three years. This resulted in extra mammograms, ultrasounds, MRI's, and at least 5 biopsies (all benign). Enough was enough, and I had bilateral prophylactic mastectomies and reconstruction…. and a hernia repair (3 times).
So, I am nearly 7 years out from a diagnosis of stage 3 ovarian cancer. I am now the president of my cancer support group and try to bring hope and encouragement to those who are battling this disease.
Cheryl Bourn

---
Eight year survivor
I was diagnosed in March, 2004, with Stage 3C ovarian cancer. I knew something strange was going on in my gut but didn't think about cancer or how serious the situation could be. I learned quickly! The delusion of "stomach problems" was dashed with the harsh reality of what lay in store for me. After three surgeries and six months of chemotherapy, I went into remission. What a relief! The joy of that experience faded after sixteen months when I had my first recurrence. I was fortunate, though; six more cycles of treatment brought me another remission, this time for two and one-half years. I remember saying to myself: "I am through with cancer." With this optimistic outlook, I threw away various informational materials and schedules I had collected over the years. But I kept the cards from family and friends which was good because I needed them -- again.
Since 2009, I have not had a remission. What I have had, along with chemo and radiation, is the love and support from friends, old and new, near and far; the unwavering companionship of my daughter; the expertise of the caring professionals at the Women and Infants Center; and many opportunities to be grateful for each day, profoundly grateful.
What keeps me going? Many things, big and small. I am blessed with stamina and determination, and keep Eleanor Roosevelt's words close to my heart: "You must do the thing you think you cannot do." When I have barely enough energy to get out of bed in the morning, I intentionally find joy and sustenance close at hand: a brilliant bloom on a zinnia, a new poem, vibrant or soothing music, messages and visits from family and friends, my cats, spiritual reading, even a good cup of coffee! At other times, I am able to reach out to others, and offer sustenance and companionship to those who are having a rough time.
I have a ritual that starts each day; it is a practice called "holding in the light." I light a candle and say out loud the names of women who are sick. I spend some time thinking about each person, asking that they feel the warmth and love of the divine energy that is in each of us. This connects me to others and brings us together in the spiritual presence that is the basis of compassion and love, the source which sustains and nourishes us every single day.
Connie LaMonte

---
Bonnie Lynn Segers's daughter
Bonnie Lynn Wolf Segers was always in the middle of a project. Growing up, our house was usually covered in glitter, sequins, fabric, and yarn. She sewed, knitted, weaved baskets, and made practically every solo dance costume my sisters and I needed. She was the kind of mom that would drive hours out of her way to drop off a forgotten textbook or sit through a twenty minute carpool line to surprise me with fresh baked cookies when she knew I was having a tough week. When it came to her family, she had a stubborn streak a mile long and was always willing to help us fight our battles. Bonnie also happened to have stage 4 ovarian cancer. She was diagnosed in November 2009. Her symptoms presented with sore ribs. After unsuccessfully draining fluid from her lungs, she went into surgery for a more permanent solution. The doctors found the cancer on her lungs. Because the form of cancer she had wrapped around the outside of the ovaries, they did not perform a hysterectomy. Bonnie fought through 2 years of chemotherapy, hair loss, loss of appetite and many more side effects. She continued to be our support through her battle and faced cancer with bravery and determination. Bonnie passed away on December 1, 2011 at the age of 53. People have told me that I am a lot like my mom. I sure hope so.

Julie Segers Lovell

---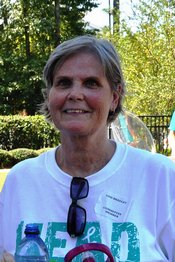 Lois Bradley
Robyn's mom, Lois Bradley, is an eight year survivor
Once is enough to watch your loved one suffer from cancer and twice is unbearable. Getting ready to celebrate my mom's 63rd birthday has made me reflect on how much she means to me and all our family. Her blowing out the candles this year is a miracle for us. Surviving a battle of ovarian cancer, losing her husband, surviving a 2nd battle of ovarian and still willing to live a happy and fulfilled life is a testament to my mom's strong and faithful character. The first time she learned she had cancer 8 years ago was nothing but shock. After her surgery, the doctor said he removed 16 tumors in her abdomen and the cancer in stage 3C had metastasized in her intestines. Then the biggest mistake I made was asking how long she had. My dad and I were told 6 months with chemo, we just had to wait and see how her body received chemo. My first moment in life when you feel like the world is crashing around you. Nine months later she found out she was in remission!! We have since lost my father (2nd moment of my world crashing) and our family has grown with 4 grandchildren.

It is true, that we do not know what will happen in our life tomorrow or any day after. My mom has been inspiring to watch endure the pain from cancer, chemo and all its side effects and choose to still be happy and enjoy her blessings. I admire her for fighting her 2nd battle. Knowing what was to come with the pain she took it and fought it. Some days were much much tougher than others, but on her "OK" days, she always made it to her grandchildren's games, recitals and parties and went to work when possible and never missed church. Only being able to help her but not take the pain away was extremely hard on me as I am sure it is for anyone helping take care of their loved one, so celebrating her remission is another miracle. Hearing the words that someone you love has cancer can only be trumped by hearing they are in remission. Many prayers were sent to Heaven above for her to survive this and our prayers were answered. I know so many do not get the same chance and my heart goes out to their loved ones. Cancer is a nightmare. Our family is more than thankful for amazing doctors and nurses and especially for those who take the time to start organizations like the wonderful Crandall family. By them starting the Laura Crandall Brown Ovarian Cancer Foundation in honor of their daughter, they will save lives by brining awareness and teaching symptoms. My mom receives support from everyone in the foundation and enjoys being a part of it. I am thankful for my mom and hope she always knows that we love and appreciate her.
Robyn Gardner Bradley
---